BroadbandHamnetV3
As of January 2017 we have pulled the plug on this project and pretty much abandoned it completely... After a lot of time, money, energy and a LOT of testing, it proved to just not be up to the task of handling the sort of data we needed to pump through it. It was slow! It was flaky! Nodes needed to be robooted constantly! After wasting a lot of time, money an energy, we pulled the plug on it.
I run a LOT of VOIP on my network and the timing issues with BBHN just wouldn't cut it. It does fine for its original intent - a quick to setup self configuring EMERGENCY network. But for day to day operations, it just couldn't cut the mustard and got replaced with all Ubiquiti gear running its native software and all of our problems simply disappeared, as if by magic...
We have left the rest of this here for reference material in case anyone would like to try their hand at it... It just wasn't suitable for our uses.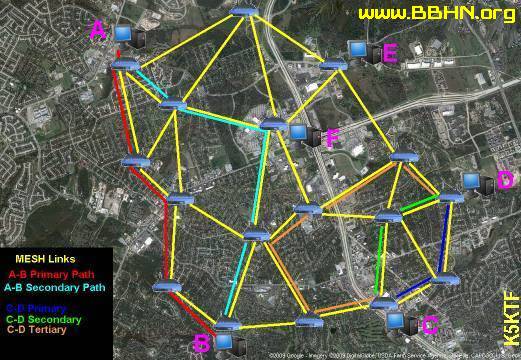 (A self configuring, self healing, point to point Ham Radio TCPIP wireless microwave LAN/WAN networking system)
Now Tunneled into the World Wide mesh from Hawaii to Paris France and Italy!
This is a gateway to a whole different kind of wireless computer networking over the radio using ham radio frequencies. Log in to see other nodes in my area and other nodes in different parts of our farm. Each node is a standalone node and connected to various computers and resources in different buildings - thus tying the entire farm together on one big wireless backboned network. Much like the wireless internet networking you are probably using now, but this uses ham radio frequencies, much more power than civilians are allowed and can traverse 10-40 miles instead of 50 ft. to 100 yards AT LAN SPEEDS!
N5MBM-1-QTH BroadbandHamnetV3 router (Inet Gateway) - OPERATIONAL - My Ham Shack router.
N5MBM-3-Bridge Broadband HamNet bridge node with resources on the local mesh.
N5MBM-3-Bridge HamChat Broadband Hamnet HamChat service - a simple keyboard to keyboard round table style chat system.
Presently we are tunneled into the following foreign countries via the mesh:
France
New Zealand
Canada
Hawaii - (Ok, not a country, but it's WAY over there in the middle of the ocean!)
UK
Italy
Hoping to add more soon!
Cameras on the local Mesh
Towercam 1 – OPERATIONAL - User:guest PW:guest - Towercam 1 is attached to a 50 ft. tower on our barn about 35 ft. AGL on an antenna rotor.
Shack Cam – OPERATIONAL - User:guest PW:guest - Located in our ham shack so you can see us when we talk to you on the radio!
For an introduction to Broadband HamNet MESH networking see - An Introduction to BBHN Mesh
For more info visit - http://www.broadband-hamnet.org/ OR Intro-Video about HamNet mesh from the ARRL!
---